Log in to be sure you see the bonuses available as part of your membership.
Join and earn 1,000 miles on your first visit.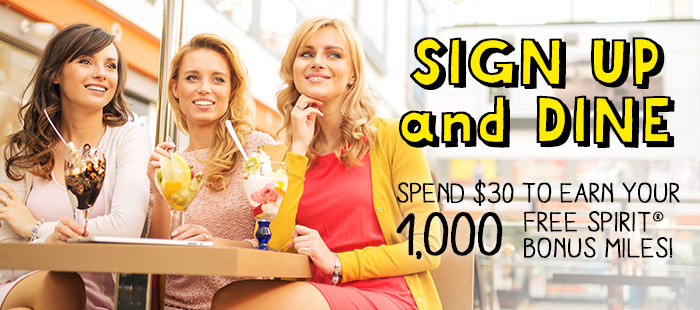 This bonus has ended
Join the FREE SPIRIT Dining™ program now and start by earning 1,000 bonus miles when you dine and spend $30! Dine today!
Here's how to get the ball rolling:
1
Join the FREE SPIRIT DINING program for free.
2
Spend $30 or more on a single dine (including tax and tip) at a participating restaurant, bar or club within 30 days.
3
Earn 1,000 bonus miles!*
Sign Up and Dine Bonus Details
*This bonus offer is open only to new members in FREE SPIRIT™ Dining who join and create a dining profile by June 14, 2018. A dining profile includes creating a web login and remaining opted in to receive emails from FREE SPIRIT DINING with a valid, deliverable email address. You must also continue to satisfy other Online and/or VIP Member level criteria to earn this bonus.
To earn rewards through this bonus, you must enroll and create your dining profile by June 14, 2018, and you must spend $30 or more in a single dine at a participating restaurant, bar or club within 30 days after joining and creating your dining profile. Please note that all dines must occur during a valid reward period and be paid for with a credit or debit card registered with FREE SPIRIT DINING. You may earn this bonus only once for a total of 1,000 bonus miles. Offer is not combinable with other FREE SPIRIT DINING bonuses. Please allow 4–6 weeks from the date of your qualifying dine for any bonus miles to post to your FREE SPIRIT DINING account. All account inquiries related to this bonus must be received by September 14, 2018.
Please note that some restaurants offer rewards only on certain days of the week or up to a maximum spending amount per month. For complete program Terms and Conditions, guidelines and restrictions and the latest rewards calendar, visit https://www.freespiritdining.com. Other limitations may apply.